Attic Ventilator
Take a load off your air conditioner
Have you ever been in your attic in the middle of the summer? It's HOT! That's why you need an attic ventilator. Assisting your air conditioner in cooling your home and in lowering your utility bills, an attic ventilator exhausts the hot air from your attic and brings in cooler air from the outside. This circulation of air greatly reduces the heat load on your home allowing your air conditioner to work more efficiently and to cool your home faster. Adding an attic ventilator to your home will save you money and make you more comfortable.
There are two Possible attic ventilators:
Solar
The Solar Powered Roof Attic Ventilator with an 18 volt DC Motor has no energy costs, as there is no wiring to the AC main power source. The fan comes with a galvanized steel flange and weathered grey powder-coated steel dome. It has a 12.6 watt multi-Crystal panel which mounts on the roof adjacent to the ventilator.
Keeping your attic cooler and well ventilated will prolong the life of composite roof shingles and other roofing components, and help protect the roof structure itself

Up to 1000 cfm ventilates a 1500 sq. ft. attic
Durable steel construction and high-impact tempered solar panel cell casings resist hail, flying debris and impacting winds
Built-in steel mesh grille keeps out birds, squirrels and other rodents
The 25-ft. power cord connects panel to blower unit allowing flexible positioning and placement
A cooler attic will keep you home cooler, reducing costs of air conditioning and wear and tear on your cooling equipment
Reduces heat buildup in the attic and helps make living areas more comfortable
Equalizes temperatures inside and outside the attic, helping prevent weather-induced home deterioration
As an exhaust vent, this fan requires a minimum of 480 sq. in. net free air intake airflow areas to perform safely and correctly
Power
Our Power Roof Vents are your best overall investment in attic ventilation. Our vents remove the greatest volume of hot and/or humid air from your attic, saving you more in heating and cooling costs than any other type of ventilation.
Reduces energy costs, saves money and helps prolong life of the roof and shingles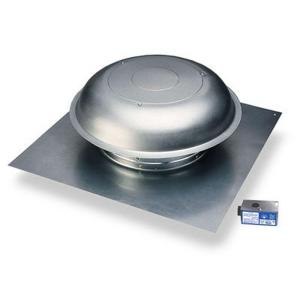 Large pre-punched flashing for easier installation and less chance of leaks
Blows hot air outside and cools the attic
Available in four popular colors to complement with your roof
Adjustable thermostat included
Galvanized steel construction for durability
Heavy duty screen deters animals, birds, and insects